David Brown
PRESIDENT AND CO-FOUNDER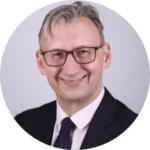 WE ALWAYS HOPED TO MAKE A COMPANY WE WOULD BE PROUD OF, – ONE THAT WAS FUN, INNOVATIVE, GREAT TO WORK FOR AND THAT CHANNELLED OUR PASSION FOR INTERNATIONAL EDUCATION, AND THE TRANSFORMATIVE OPPORTUNITIES IT CAN OFFER STUDENTS WORLDWIDE.
After spending 25 years as Joint-CEO and Founder, David now serves as Group President. In this role, David continues to develop and maintain relationships with new and current partners all over the world and helps to set the strategic direction of the company.
David is a passionate Oxford Utd supporter, bibliophile, golfer, stamp collector, single malt aficionado, guitar picker, bell ringer, gallivanter, amateur barista, line dancer, concert goer. He enjoys some or all of these activities with his wife and two teenage boys.
To see our full Leadership team CLICK HERE.