OI Digital Institute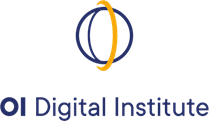 Oxford International Digital Institute (OI Digital Institute) provides students with high-quality online education from across our portfolio.
OIDI launched officially in December 2020 but have been developing and strengthening its online courses portfolio since March 2020 where we supported higher education institutions and university applicants with access to essential English language testing and pre-sessional services.
Our aim is to partner with institutions such as the University of Dundee, Coventry University, University of Greenwich, University of Bangor, De Montfort University International College, University of Hertfordshire, University of Roehampton, University of Strathclyde, and others to bring the quality of on campus teaching together with the power of technology to deliver exceptional student outcomes.
We provide a range of courses to suit learners at every stage of their academic journey such as:
Higher Education
Online Pre-Sessional English
English Language Level Test
Preparation Course for English Language Level Test
Language Booster Course
In-Sessional English Skills Support
In-Sessional English Academic Support
Pre-PhD Preparation Programme
Pre-Master's Programme
Professional Qualifications
UK Visa SELT Exam Preparation
English Language Level Test
Preparation Course for English Language Level Test
Preparation Course for the Oxford Test of English
Preparation Course for the Occupational English Test
IELTS & Cambridge Exams Preparation
English for Adults
General English
English for Journalism
English for Customer Service
English for 21st Century Business
English for Creative Writing
English for Juniors
Juniors 2 or 6 Week Intensive Course
Discover the new home of digital education at www.oidigitalinstitute.com
Press Features