Jo Grendall
CHIEF HUMAN RESOURCES OFFICER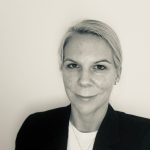 Jo Grendall joined Oxford International Education Group in September 2022 as Chief Human Resources Officer.
Her strategic responsibilities include the professional development of colleagues across the world, the dynamic acquisition and management of talent, staff engagement, and the promotion of a culture of core values, staff well-being, and the celebration of success. This remit enables colleagues across the world to flourish professionally, in turn creating outstanding outcomes for our students and helping Oxford International to deliver growth for itself and its partners.
Jo brings over 8 years of expertise to the Executive Leadership team as a Human Resources professional in International Higher Education. Her background extends further than just Higher Education, with a successful track record in sectors as diverse as investment banking, biotechnology, and market development for specialised trade interests. And she's led international strategies that deliver highly effective online learning, workflow optimisation, regional sales, and marketing initiatives, and has helped organisations scale staff to hit ambitious growth targets.
A keen traveler, Jo enjoys exploring the local countryside on foot and indulges in trips abroad whenever she can. She's an enthusiastic gardener, tending to her own vegetable patch, and is rightly proud of her first crop of pumpkins ready for carving and cooking! Jo lives in Essex, in the South of the UK, with her husband and 2 children.
To see our full Leadership team CLICK HERE.