Elevating Environmental, Social, and Governance Excellence
Oxford International Education Group (OIEG) is proud to announce its improved overall score in the annual Environmental, Social, and Governance (ESG) review. With a rating of 4 out of 5, this achievement showcases our unwavering dedication to environmental sustainability, social responsibility, and robust governance practices.
Social
One of our key priorities is prioritising employee well-being and inclusivity. We actively engage in initiatives that foster open dialogue, encourage employee feedback, and promptly address concerns. Notable achievements in HR management include comprehensive staff training, investment in employee development, and implementation of a Human Rights policy.
Promoting a flexible working culture is central to our values, and we strive to create an environment where all our staff can thrive. While operational requirements may on occasions limit remote work opportunities, we provide a framework for our team and managers to discuss and explore homeworking arrangements.
Our organisation's mission is to offer "Learning Without Limits." To support this mission, we emphasise the professional development of our staff through various avenues:
Performance Development Reviews: These reviews enable employees and their line managers to acknowledge contributions, identify strengths, set objectives, and work on areas for improvement.
LinkedIn Learning Platform: We provide all staff access to the LinkedIn Learning Platform, which offers thousands of courses to support both professional and personal development.
Tailored Learning and Development Opportunities: We offer customised learning and development opportunities to ensure our employees are well-equipped to excel in their roles and advance their careers.
Support for Professional Qualifications: We encourage employees to pursue professional qualifications such as ACCA (Association of Chartered Certified Accountants) and PGCertHE (Postgraduate Certificate in Higher Education)
We also recognise the significance of self-care, both mentally and physically. Our commitment to employee well-being is evident through initiatives promoting good health. We have a number of certified Mental Health First Aiders in all of our main locations around the world. Creating connections with others informally though social events, and offerings such as Yoga.
Supporting Communities in Times of Crisis
Our core values are not just words on a page; they guide our actions and define who we are as an organisation. One of our fundamental values is care, and we believe in demonstrating this value through tangible support for communities in times of crisis.
In 2022, we witnessed a devastating flood in Pakistan. As a country close to our hearts, with thousands of Pakistani students passing through our organisation over the years and several Pakistani colleagues on the ground, we felt a deep sense of concern and responsibility. In response, our entire team in Pakistan rallied together and volunteered in the affected areas, providing essential assistance such as food, clothing, and toiletries. Additionally, as an organisation, we donated towards the disaster relief efforts through Alkhidmat Foundation Pakistan and actively supported students who were impacted by this disaster.
Similarly, our hearts were heavy when we learned about the earthquake affecting Turkey and Syria. This tragic event has affected people worldwide, including our own team members, many of whom have personal connections to these regions. We stood in solidarity with our impacted staff and students and provided on-the-ground support to students in our colleges who were affected. Furthermore, we donated to the Oxfam rescue fund, contributing to the ongoing relief efforts.
Care is at the heart of our culture. We see our students and staff as family, and their well-being is our priority. We support them daily with academic guidance, mentorship, and an inclusive learning environment. We're committed to making a positive impact, even more so during challenging times. Together, we build a stronger, more compassionate world.
Governance
We are committed to positively impacting society through our social responsibility and environmental sustainability initiatives. As part of these efforts, we seek to develop long-term relationships with employees, stakeholders, like-minded institutions, and the communities we operate in.
One notable initiative under this umbrella is our Free English Lessons for Refugees, a programme is designed to provide support and opportunities for vulnerable individuals as they embark on a fresh start in a new country. Our goal is to provide refugees with the necessary skills for a successful integration into their host communities by offering free English lessons. As such, the programme goes beyond language learning. It serves as a stepping stone for refugees to build confidence, engage with their new communities, and ultimately create a better life for themselves and their families. We understand that language barriers can often be a significant hurdle, hindering effective communication and inhibiting social and economic integration.
Since the inception of the programme in April 2022, we have witnessed tremendous demand. New cohorts have been opening regularly each month, welcoming individuals eager to learn and grow and we are proud to have enrolled and provided English lessons to 1,450 students (from 2022 till April 2023), each with their unique stories and aspirations.
The impact of this programme extends beyond the classroom. As refugees gain proficiency in English, they can access better educational opportunities, secure employment, and actively contribute to their new communities. By breaking down language barriers, we facilitate social interaction, foster understanding, and promote a sense of belonging.
Additionally, we actively support the International Higher Education Commission in shaping the new 'International Education Strategy 2.0'. Chaired by Rt Hon Chris Skidmore MP. The Commission collaborates with the higher education community of 18 policymakers, regulators, funders and other education industry stakeholders to provide recommendations for the future of international education.
Recognising the value of international students in the UK, the Commission seeks to develop strategic recommendations for a government education strategy which addresses both social and economic benefits and develops sustainable strategies at the international and local levels.
The Commission, including former Universities Ministers Lord Jo Johnson and Lord David Willetts, engages stakeholders through roundtable discussions within and beyond the UK and includes also student stakeholders.
The recent report, "International Higher Education Strategy 2.0: Targeted Growth for Resilience," explores the surge in international student numbers and the need for sustainable growth. The report suggests shifting recruitment from master's students to undergraduates due to declining demand from China and EU countries post-Brexit.
We fully support the Commission's mission to develop an inclusive and robust international education strategy.
As a leading education provider, OIEG remains committed to driving positive change and enhancing the international education landscape. We will continue collaborating and contributing to developing a globally connected, sustainable and future-focused education ecosystem.
Environment & Resource Efficiency
We actively seek opportunities to reduce our carbon footprint and promote resource efficiency. We support the Cycle to Work scheme—a UK government-backed programme that offers a cost-effective way for employees to access new cycling equipment.
Through the Cycle to Work scheme, participating employees can obtain cycling equipment without paying tax or national insurance on these products. This initiative encourages active transportation and reduces reliance on fossil fuel-based vehicles, contributing to a greener and healthier environment.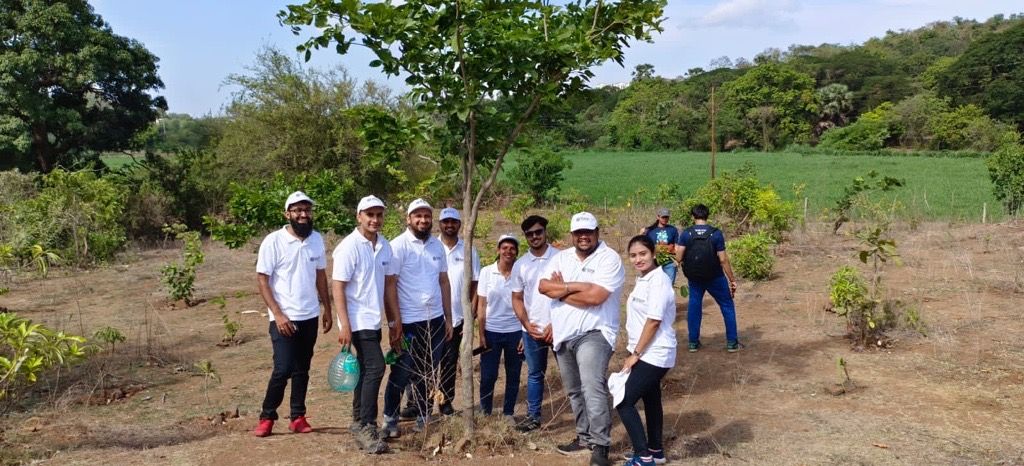 Recently, our India-based team members at Oxford International Education Services (OIES) demonstrated their support for World Environment Day by partnering with the NGO Muskurate Raho. Together, they engaged in an environmental restoration drive, reviving plant samplings. Our team actively contributed to the conservation and rejuvenation of the natural environment.
---
While we celebrate the progress made in environmental and social responsibility across our company, we also acknowledge that there are areas where we can improve. We recognise the need for urgent and purposeful action to address environmental challenges. By adopting a proactive approach and collaborating with experts and stakeholders, we are confident that we can strengthen our environmental initiatives and have a lasting impact.
We remain committed to continuously adopting and improving sustainable practices. We are motivated by our improved Environmental, Social, and Governance (ESG) score and embrace stakeholder feedback to drive continuous improvement. Leveraging advancements in technology, fostering a culture of transparency, and advocating for responsible practices are just a few ways we put our commitment into action.
As we move forward, we are determined to be an example for our industry and prove that responsible practices are the key to building a more sustainable future.
We believe that even small steps can lead to significant change. As we strive to do more, we invite our employees, partners, and stakeholders to join us on this journey towards a greener and more sustainable world.
Together, we can make a positive impact and create a better future for all.
csr
education
esg
governance
social responsibility
sustainability