Oxford ELLT goes from strength to strength: Further Testaments to Success, Validation, and Expansion in English Language Testing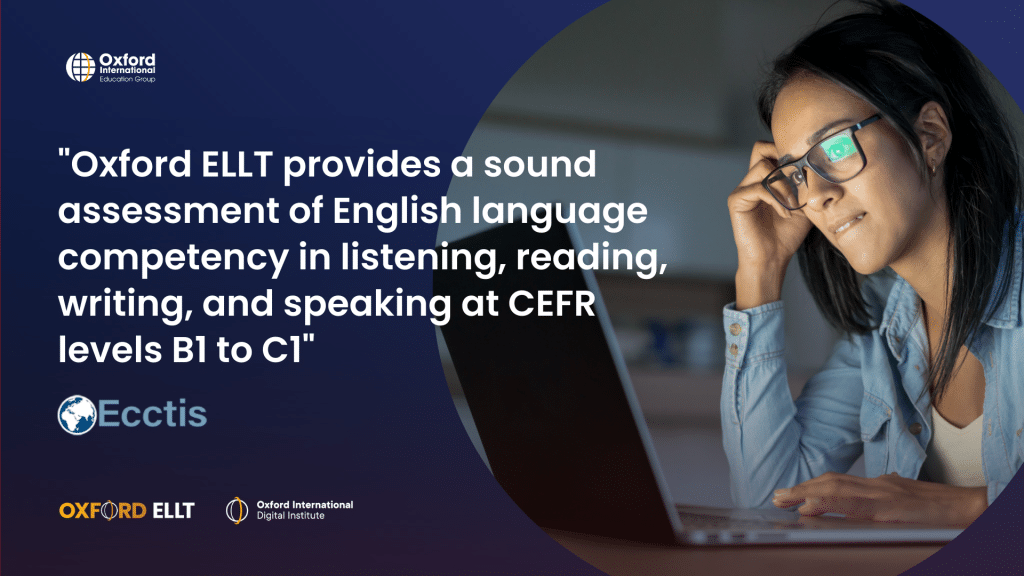 In the past two years, Oxford International Digital Institute has achieved remarkable growth and success. Our flagship English language level testing product, Oxford ELLT, has gained significant popularity, attracting over 25,000 students in 2022 alone. 
We are proud to share that Oxford ELLT, has undergone an independent evaluation by Ecctis, a renowned provider of international education solutions. This evaluation has validated the Oxford ELLT as a sound English language proficiency test, reinforcing its credibility and reliability. 
Our Partnership with Ecctis for Benchmarking the Oxford ELLT & Key Findings
As an organisation committed to excellence in education, we recognise the importance of external validation to instil confidence in our products with our current and prospective partners. Ecctis – trusted for managing official recognition services on behalf of the UK Government, including the UK ENIC national recognition agency function –, conducted a thorough external assessment of the Oxford ELLT in early 2023. The objective of this evaluation was to establish the test's reliability, inform our efforts for continuous improvement, and provide reassurance to our valued partners.
Ecctis' comprehensive review covered various aspects of the Oxford ELLT, including grading, certification, marking, moderation, and test construction. 
The evaluation concluded that the Oxford ELLT provides a sound assessment of English language competency in listening, reading, writing, and speaking at CEFR levels B1 to C1.
Transforming Efficiency and Accessibility in English Language Testing 
In 2023, we proudly unveiled the new Oxford ELLT portal, revolutionising the experience for university partners and students alike. This cutting-edge platform encompasses a comprehensive suite of features, including streamlined candidate management, seamless certificate downloads, and efficient result verification. By integrating these essential functionalities, we have enhanced transparency throughout the candidate management process, while making it more efficient.
At the core of our platform lies an advanced AI-powered proctoring engine, leveraging facial recognition, audio recording, plagiarism checks, screen recording, and offline handling capabilities. Moreover, the Oxford ELLT partner portal empowers university partners with direct access to student data and results, eliminating delays associated with certificate handling. With our automated scheduling system, we have also paved the way for seamless coordination across various time zones, benefitting both students and examiners with unparalleled flexibility.
Enhanced accessibility is a fundamental pillar of the Oxford ELLT platform. We are dedicated to accommodating learning requirements through test adaptations and live examiners. Through the implementation of test adaptations and the provision of highly skilled live examiners, we ensure that each student's unique needs are met.
Oxford ELLT is being nominated for awards
Finally, the Oxford ELLT has been shortlisted as a finalist in The PIEoneer Awards 2023 for the category 'Digital innovation of the year – assessment and credentials', recognising excellence and innovation in English language proficiency testing.
We have invested in an AI- driven platform, developed with our technology partner AppDrawn to significantly improve the overall testing experience for partners and students alike. As such we take great pride in the recent recognition of AppDrawn's role and them being shortlisted for 'EdTech Company of the Year' Award at the Global British Tech Awards for their work in developing our new Oxford ELLT platform.
Oxford ELLT Expansion
And the good news doesn't stop here. We are pleased to be constantly adding new university recognitions including the University of Bristol, University of Winchester, University of Chichester, University of Kent, and many more.
As we continue our journey of innovation and growth, we remain steadfast in our dedication to enhancing the Oxford ELLT experience for all involved. Through collaboration with industry-leading partners and ongoing focus to refine our platform, we are resolute in our mission to provide our partners & students with an unrivalled testing solution that combines efficiency, reliability, and inclusivity.
To learn more about the Oxford ELLT and its merit as a trusted English language proficiency test, visit our Oxford ELLT Hub. 
---
education
English
English as a Foreign Language
English language
English Language Testing
international students
News
Oxford ELLT