Successful ISI Inspection at Oxford International English Schools UK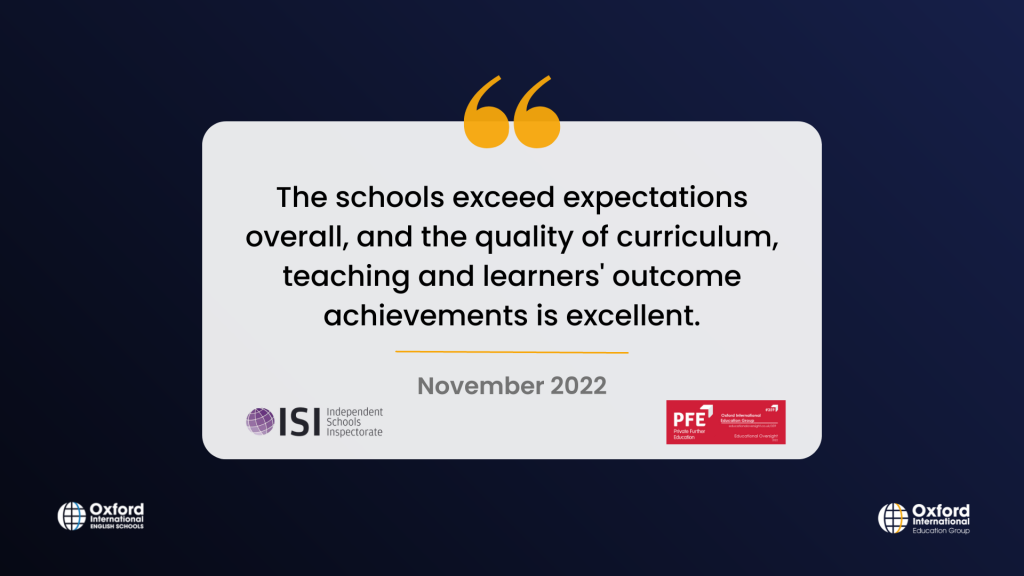 We are delighted to announce that following the recent Independent Schools Inspectorate (ISI) inspection in November 2022, Oxford International English Schools in the UK "exceed expectations overall, and the quality of curriculum, teaching and learners' outcome achievements is excellent."
The inspection awarded Oxford International English Schools UK the highest grades, confirming that the quality of the curriculum, teaching and learner's achievements are in the highest category: Excellent. 
Key findings from the inspection identified that:
"The quality of the curriculum, teaching and learners' achievements is excellent."
"The majority of teaching is excellent. Teachers are experienced, well qualified and have excellent subject knowledge. Lessons are very well planned, with a wide range of teaching and learning methods used to deliver engaging lessons which fully involve students in their learning. As a result, student progress very well in lessons, given their starting points."
"Students' welfare, including health and safety, is excellent."
"The effectiveness of governance, leadership and management is excellent."
"Quality assurance is excellent. Leaders and managers are highly effective in monitoring each of the school's performance and identifying priorities for improvement."
We are delighted that the standard and quality of education provided at Oxford International English Schools UK has received such strong external ratification. We are grateful for the support and commitment we receive from our teachers, our wonderful support staff, as well as parents and students and our local communities. We remain committed to fostering a culture where students are encouraged to be exactly who they are, with the confidence to express opinions and take on new challenges.
At Oxford International, we are committed to creating life-enhancing experiences for students worldwide. With a strong heritage in pathways and English language provision, we operate English language schools for adult and junior students in the UK, Canada and the USA, serving over 8,000 students annually. This includes 55 post-secondary, higher education language pathway partners in North America. The schools aim to support the students in gaining the highest academic achievement possible and help prepare them for future aspirations.
Read the full report here: English Schools ISI Report

---
What is an ISI Inspection?
The Independent Schools Inspectorate (ISI) is the body approved by the Department for Education to inspect schools belonging to Independent Schools Council (ISC) and report on compliance with independent school regulations. The inspectors observe lessons, have discussions with pupils and examine samples of pupils' work. They hold discussions with staff members and governors, monitor co-curricular activities and attend form meetings and assemblies. Inspectors consider the responses of parents, staff and pupils to a pre-inspection questionnaire and examine curriculum and other documents.
---
education
English
English language
English learning
English schools
Language School
Learning
teachers
teaching
teaching quality