Oxford ELLT: Leading the Digital Innovation Revolution in Education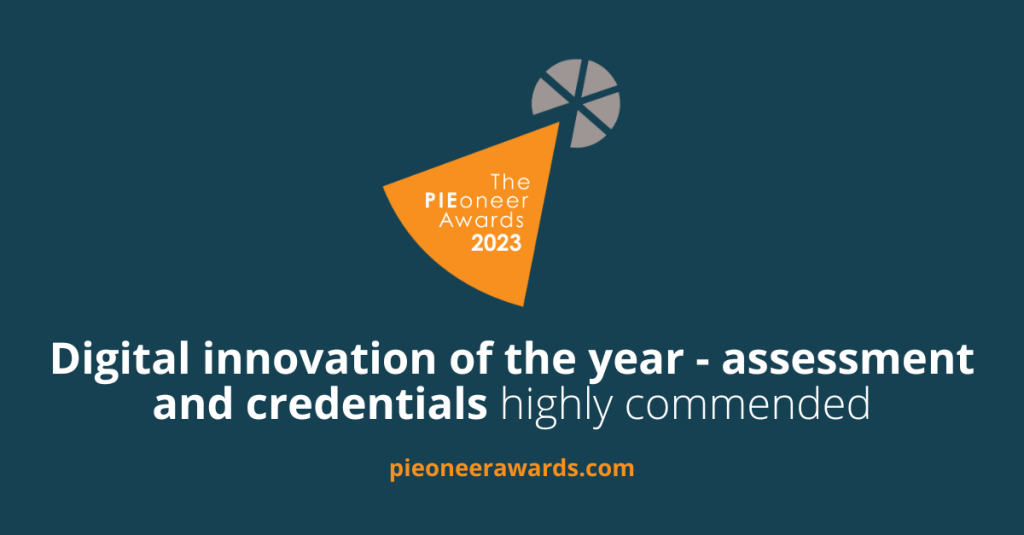 Oxford ELLT proudly announces that we have become a 'Highly Commended' finalist in the "Digital Innovation of the Year – Credentials and Assessment" category at The PIEoneer Awards 2023. This accolade underscores our unwavering commitment to pushing the boundaries of innovation and excellence within the field of education. 
 
At Oxford ELLT, we are dedicated to continuously enhancing the testing experience for our partners and students. To achieve this, we have invested strategically in an AI-driven platform through a collaborative partnership with our esteemed technology partner, AppDrawn, finalist for the prestigious 'EdTech Company of the Year Award' at the Global British Tech Awards 2022. The collective efforts of our teams have yielded substantial enhancements, which have effectively contributed to the welfare of our esteemed stakeholders. 
Oxford ELLT: Ground-Breaking Technological Innovation
At Oxford International Digital Institute, we're revolutionising education through digital innovation, providing boundless opportunities for students and partners across the globe. Our commitment to meaningful innovation, quality, and value for money drives us to deliver exceptional educational outcomes.
Our ground-braking English Language Level Test, Oxford ELLT, has received international acclaim. It's more than just a language assessment; it's a secure solution for gauging a candidate's reading, listening, writing, and speaking skills, facilitating their progression into higher education. Trusted by over 70 universities worldwide, Oxford ELLT stands as a beacon of excellence in language assessment. Thoroughly evaluated by Ecctis, a renowned provider of international education, training, and skills solutions, Oxford ELLT is found to provide a sound English language proficiency test, reinforcing its credibility and reliability.   
Two Exceptional Offerings:
Oxford ELLT Digital: This fully online version of our test has been a game-changer, especially in a post-pandemic world. Our latest AI security measures and human proctoring provide students with a flexible and secure way to demonstrate their English proficiency. 
Oxford ELLT Global: Our test centre-based solution offers a fully invigilated environment for regions facing internet challenges. It ensures universities receive accurate assessments of candidates' language skills while providing students peace of mind. 
Key Advantages:
Rapid Results: We take pride in delivering results within 48 hours, allowing for efficient decision-making.
Enhanced Flexibility: Our platform accommodates diverse learning needs, enabling students to complete sections at different times.
Top-notch Security: With advanced AI proctoring, including facial recognition, audio recording, plagiarism checks, and more, we prioritise the integrity of the assessment process.
Increased Accessibility: Our platform caters to a wide range of learning requirements, ensuring inclusivity.
Streamlined Process: The Oxford ELLT partner portal empowers universities to manage candidates, download certificates, and verify results swiftly, enhancing efficiency.

Join the Oxford ELLT Revolution:
As we continue our journey of innovation and growth, we remain committed to improving the Oxford ELLT experience for everyone involved. By working with top industry partners and continuously enhancing our platform, we are determined to offer our partners and students an unparalleled testing solution that combines efficiency, reliability, and inclusivity.
To learn more about the Oxford ELLT and its merit as a trusted English language proficiency test, visit our Oxford ELLT Hub.
education
English
English as a Foreign Language
English language
English Language Testing
international students
News
Oxford ELLT